Aluminum Concrete Form Accessories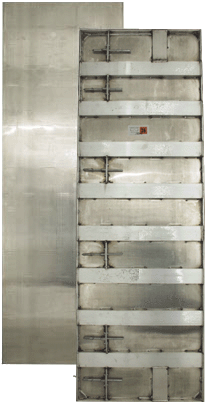 Aluminum Concrete Form Accessories
Aluminum Concrete Form Ties & Accessories
We buy and sell new and used...we have the best price on ties, pins and wedges.

Overview:
Foundation contractors use aluminum forms to produce flat walls with no pillowing. Some claim to have used their forms for over 3,000 pours. Aluminum concrete forms require less expertise; a construction worker can use the forms after some basic instruction. Contractors claim that an experienced crew can strip, set and pour the "basic house" in just 8 hours. Ideal for mass-produced basic homes.
Shipping:
Some products due to their size and quantity may not be shippable via UPS.
Owens will contact you with a freight quote.

Caution: Section 4.9.4 of ACI 303R-04, "Guide to Cast-in-Place Architectural Concrete Practice," states that "Although aluminum [used in formwork] is nonporous, it often reacts chemically with fresh concrete to produce hydrogen gas, resulting in a possible bug hole problem." The reaction is between unoxidized aluminum surfaces and calcium hydroxide released during cement hydration. Instead of producing bug holes, the hydrogen gas that is produced can form a veined pattern as it rises to the surface of the concrete.
Manufacturer claims
Precise Forms, Inc.http://www.preciseforms.com/
"has set the highest quality standards for concrete form production."
Wall-Ties & Forms, Inc.,http://www.aluminumconcreteforms.com/
"The world's largest aluminum concrete forms manufacturer and supplier, is the premier designer of aluminum concrete forming systems and concrete formwork accessories"
Western Forms http://www.westernforms.com/
"Western Forms invented the first aluminum forms for residential" and "has been, by far, the leading edge concrete form manufacturer"
Durand Forms Inc http://www.durandforms.com/
"Durand has achieved so much more than any one of their competitors."