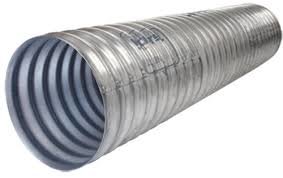 Corrugated Metal Pipe
Corrugated Steel/Metal Pipe (CMP)

aka culvert or whistle tube
Overview:
With its low cost, a wide variety of diameters, layout configurations, and materials, no other material can match CMP's versatility and flexibility in design. CMP is the "go to" material for the majority of pipe and drainage system applications including storm sewers, culverts, and storm water detention and infiltration systems.

CMP is placed vertically to act as a form for the poured-in-place concrete foundation
Shipping:
Some products due to their size and quantity may not be shippable via UPS.
Owens will contact you with a freight quote.

Shaft Liner - used as a deep foundation
LEED Points: Steel is North America's #1 recycled material. The high recycled content of CSP can be certified to aid in earning LEED points in the "Materials & Resources Credit 4" category. And the pipe meets all AASHTO and ASTM prime pipe standards.