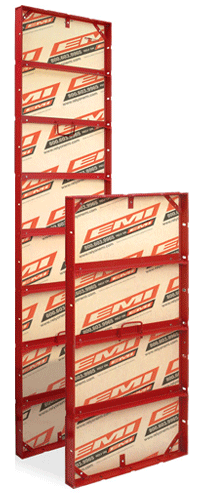 Steel Ply Forms
Steel Ply Concrete Forms 8 ft
Overview

:
Major advantages of pre engineered forming, compared to traditional timber formwork or 'sticks and boards', are speed of construction and lower life-cycle costs

80 standard panel and filler sizes special tools are required

Reduces job-built fabrication

Fast stripping procedure






Shipping:
Owens will contact you with a freight quote.
advantages:
Steel-Ply is designed for maximum versatility. It can be used to form virtually any kind of concrete pedestal, culvert, haunch or stoop as well as straight, curved, battered or "Y" walls. Combining panel or filler sizes and using them vertically or horizontally can form practically any dimension.
The Steel-Ply system combines heavy duty steel rails and cross-members with Symons special layup ½" HDO plywood for a 1000 pounds per square foot (psf) rating at a 2:1 safety factor. This load rating:
reduces tie requirements compared to typical job-built form work
increases productivity
The Steel-Ply system consists of more than 80 standard panel and filler sizes . Wedge bolts connect panels, fillers and ties in one simple operation, making form work erection and removal quick and easy
Carpenters handle less weight when using Steel-Ply panels compared to other forming systems. This means less time erecting, stripping and moving from structure to structure.
No special tools are required, only an ordinary carpenter's hammer is necessary.
The same forms can be handset or gangformed, so there's no need to buy several different systems to handle your basic needs.
Steel-Ply reduces expensive job-built form fabrication because it comes in many standard panel and filler sizes (see next question for sizes).
Expensive job-built corners are eliminated with the use of 90° and 135° rigid inside and outside corners or hinged corners for other angles.
Labor in cleaning and coating forms is reduced with the high quality HDO plywood face compared to lower grade plywood used on other systems.
Optional attached hardware is available to speed panel connections. There's no misplaced or out-of-reach hardware during panel erection, and there's no gathering up loose hardware during stripping procedures to slow workers down.
Walers are used to align the forms only, and are not required as load gathering members that must have ties attached.
Most column dimensions can be easily formed with no external ties or additional fillers. In addition, a special neoprene chamfer strip eliminates repeated nailing of conventional wood chamfers after each form use.
Some products due to their size and quantity may not be shippable via UPS.

Associated Producer:
http://www.daytonsuperior.com/