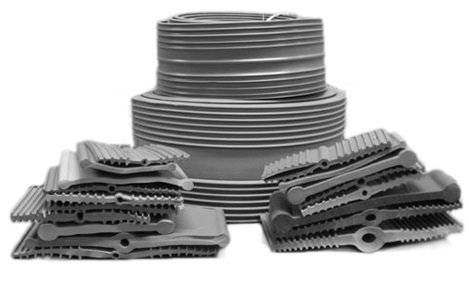 Waterstop
Waterstops PVC (Polyvinylchloride)
Overview:
PVC water stops are designed for use in concrete joints subjected to hydro static pressure. Embedded in concrete, water stops span the joint, forming a continuous, watertight diaphragm that prevents the passage of fluid. In concrete structures, water stops must be designed to accommodate joint expansion, contraction and other lateral and transverse movements. In addition to accommodating expected movements, the water stop material must also be compatible with the concrete system and the liquids or chemicals contained in the structure.
Typical:
Concrete structures requiring water stops include: water and waste water treatment plants, reservoirs, locks, dams, canals, aqueducts, tunnels, storage tanks, foundations or any concrete structure where liquids are to be contained or controlled.
TYPES OF CONCRETE JOINTS:
Contraction Joints are designed planes of weakness to control the location of cracks due to drying shrinkage of concrete.
Expansion or Isolation Joints separate or isolate abutting concrete structures (walls, slabs, footings, columns), protecting them from compressive stresses that may be developed by thermal expansion, settlement, creep, live load deflections, drying shrinkage or crush. Differential movement at these joins can be both lateral and transverse. Construction Joints are determined by interruptions in the placement of concrete